Guestbook: The comments our guests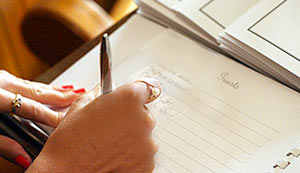 Warning: sending this message,  authorize through  Camping Paradiso Publish Guestbook.
Message
05/01/2018 Ilse and Otto
We have stayed twice at camping Paradiso. Both times were a wonderful experience. The view, the silence, the food, the welcome. Running a restaurant and a camping is tough. The result is almost to good to be true!
05/07/2014 Guido en Sandra
We stayed 8 days at the lovely campsite of Paradiso and we absolutely loved it. The view is amazing, the people are very friendly and the hot showers are GREAT! A paradise it was.
Thank you for a wonderful vacation!
Guido, Sandra & Fluf

17/04/2014 Ole Jacobsen og Birgitte W. Hansen
Vi havde den skoenneste ferie med vores campingvogn pॠParadiso Camping sommeren 2013. Stilhed med kun lyden af cikader og omgivet af oliventraer samt den smukkeste udsigt. Hver dag fik vi besoeg af Alfredo med morgenbroed i sin lille vogn - altid i straalende humoer.
Et sted vi kun varmt kan anbefale til alle der oensker panoramaudsigt og idylliske omgivelser.
Hertil skal ogsaa tilfoejes den dejlige mad paa Restaurant Paradiso.
En speciel hilsen til den soede kok, som hver dag kom forbi for at vande urterne i koekkenhaven og som foraerede os basilikum fra koekkenhaven.


04/08/2013 Floortje & Michaël
Thank you for an amazing start of our vacation! Our week at your camping was one of beautiful sights, amazing views, delicious food and fun activities! We loved the surroundings, the clean sanitary facilities and quiteness of the campground. Thank you again for a wonderful week!
Greetings from Holland,
Floortje and Michaël

21/07/2013 Micke & Anna Johansson
Back in cold Sweden from a unforgetable holiday in Italy.
We would like to thank Alfredo and his family and crew for a wonderful holiday at your camping.
Amazing view over Gardasee and wounderful food at the restaurang makes this camping something speciell to visit.
This place have everything you could wish for.
We hope that we will come back some day!
Take care and live well,
Brgds,
Michael and Anna Johansson from Lagga, Uppsala, Sweden

06/09/2012 Hugh and Anna Paton
We spent 3 nights here in August 2012 and were very impressed. Beautiful location, away from the more touristy end of Lake Garda, very clean and well-managed, and the restaurant was very nice. Not least, we were made to feel very welcome by Alfredo and all his family, and will be back.
15/03/2012 Jaroslav
Hallo, We spent several days last summer and we were satisfied. Very nice camping, nice people, kitchen with wonderfull meals, perfect track for my roadbike...so we plan to go back again.
I recommend to visit Camping Paradiso :-)
Jaroslav

11/03/2012 Stuart Free
We enjoyed a beautiful camping holiday at Paradiso, the location is stunning and the scent of bay leaves very alluring. The restaurant serves amazing food, the view is unbelievable. The family were very welcoming and so friendly, we dearly wish to return one day and thank the Razzi family very much for their kind hospitality.

kindest regards

Mr & Mrs Free